3 Fall Landscaping Mistakes Not to Make
If you are like many people, you might think fall is the time to forget about your landscaping. This could not be farther from the truth, and not only is landscaping still a priority, but a little prep work now will make your lawn look much better in the warmer months too.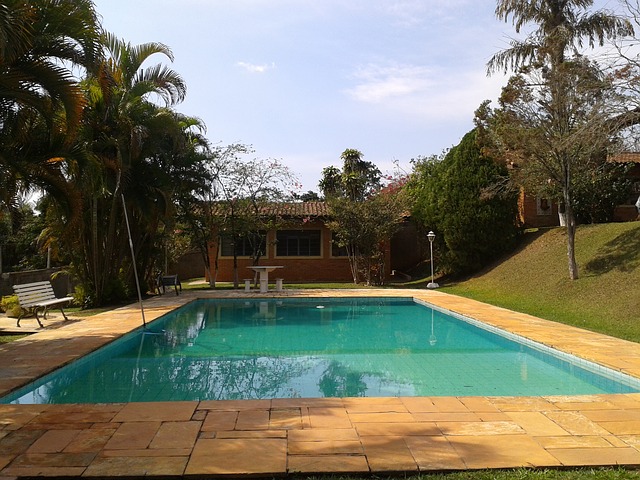 Don't stop maintaining your pool
Many people think that the end of summer means they can stop worrying about pool maintenance until next spring, but that is not the case. If you want your pool to stay in great shape and need less maintenance in its lifetime, you should keep your chemicals balanced and clean out any debris weekly. This should help keep your pool in great shape and help you sidestep costly repair bills.
Don't think your fall lawn doesn't need fertilizer and TLC
Your lawn does not grow as fast in the fall, but that does not mean that you should stop cutting, fertilizing, and caring for it. You should be able to get information from a local landscaping professional about how native climate affects your lawn care maintenance schedule. A lawn that is properly cared for and fertilized during the fall season will resist damage during the colder winter months, and you will have to do less repair during the spring.
Don't forget to plant spring flowers
Fall is the right time to start thinking about the colorful flowers you want to bloom in your yard in the spring. A local landscaping professional or plant nursery can help you figure out what bulbs are best to plant now. In the spring, you will be happy that you planned ahead and will have gorgeous spring blooms. Make sure you plant the bulbs deep enough so they are not frozen during the coldest parts of winter.
More Tips
Keep mowing – Your lawn needs to be mowed so that sunlight can reach the grass roots during the winter, but for the last two mowings of the year, keep your mower blade a little higher.
Aerate the soil – Aerating your soil helps oxygen, water, and fertilizer reach your grasses roots. If you do not have experience with aerating soil, it can be a good idea to let a professional handle this task.
Fill in bald spots – The quickest and easiest way to fill in spots in your lawn is to lay sod. You will want to hire a professional to make sure this is done correctly. Sod is also a great way to give your entire lawn a makeover if your yard is not living up to your expectations.
Maintaining your lawn during the fall will help it look better and save you a great deal of hassle in the spring. The time you invest in your property will add curb appeal and enjoyment to your property. Avoid spending time in the spring repairing lawn damage by focusing on your lawn in the fall.
Evergreen Turf is your source for the highest quality sod in Arizona. Our friendly, knowledgeable people are committed to answering all of your questions to ensure a stress-free experience with your new Arizona sod lawn. Whether you wish to sod a small play area for the family or an entire golf course, Evergreen Turf can help you make it happen.
Our team serves customers throughout Arizona, including Phoenix, Mesa, Tempe and Tucson. Browse our website for information and tips on how to create and maintain a beautiful lawn, or give us a call and talk to one of our sod specialists at 480-456-1199 if you don't find what you are looking for. Better yet, stop by and meet the team at our convenient Chandler location.