Five Types of Fertilizer
All plants need fertilizer just like they need sunlight and water. Think of fertilizers as healthy supplements for plants. Just like people take vitamins and supplements to achieve optimum health, soil often needs help via fertilizers to be able to give the plants everything they need nutritionally. This helps the plants achieve optimum growth and yield.
Whether you're working in your garden or trying to get a fresh green lawn all year round, fertilizer can help you get the most out of your plants. Here is a breakdown of the five major types of fertilizer.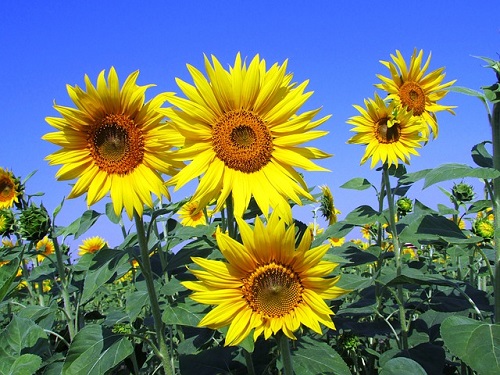 Fertilizer with Pesticide
This type of fertilizer is most commonly used when you need to protect your lawn or plants from pests that may damage them. When looking for fertilizer with pesticide, make sure the pesticide is not too strong, otherwise you risk killing your plants too.
Products to look for: Bayer, Jobes, Scotts
Time release fertilizer
If you're looking for fertilizer that will work for several months, time-release fertilizer is the way to go. These will slowly release their nutrients over a period of 2-6 months typically. The benefit to time-release fertilizer is that the plants have less risk of getting burned because the plants do not receive a full blast of nutrients. However, it's important to note that the release of nutrients is accelerated in the presence of water and moisture.
Products to look for: Milorganite
Liquid fertilizer
Liquid fertilizers are great when you need to quickly deliver nutrients to your plants, since the liquid seeps right into the roots. You need to reapply more frequently than other types of fertilizer since the liquid is quickly used up by the plant. Using liquid fertilizer on large yards may not be economically feasible, but they work great on indoor and outdoor gardens.
Products to look for: Nachurs, Scotts Miracle-Gro
Plant specific fertilizer
Some plants are down-right picky. For these types of plants, it's easy to over-fertilize using traditional fertilizer products. This is why there are plant-specific fertilizers. These types of fertilizers are specially designed to give the plants the specific ratio of nutrients they need to thrive.
Products to look for: Cutting Edge Solutions
Inorganic fertilizer
Also known as synthetic fertilizer, this type of fertilizer is best for plants that are in dire need of immediate help. Inorganic fertlizers quickly infuse nutrients to plants and instantly produce ammonia as a by-product which malnourished and dying plants need to revive themselves. It's usually best to keep a stash of inorganic fertilizer around for when you need it most.
Products to look for: Jobes
Each type of fertilizer has its own advantage. Get to know which types of fertilizers work best with your lawn and garden. Keep a healthy stock of fertilizer in your garden shed or garage so you can use them anytime you need. For more information, visit our Lawn Nutrition and Fertilization page.
Evergreen Turf is your source for the highest quality sod in Arizona. Our friendly, knowledgeable people are committed to answering all of your questions to ensure a stress-free experience with your new Arizona sod lawn. Whether you wish to sod a small play area for the family or an entire golf course, Evergreen Turf can help you make it happen.
Our team serves customers throughout Arizona, including Phoenix, Mesa, Tempe and Tucson. Browse our website for information and tips on how to create and maintain a beautiful lawn, or give us a call if you don't find what you are looking for. Better yet, stop by and meet the team at our convenient Chandler location.