Landscaping Ideas for Small Backyards
Designing a backyard landscape can be a challenge when working with a small space. However, it is possible to turn a small backyard into a beautiful and relaxing outdoor space!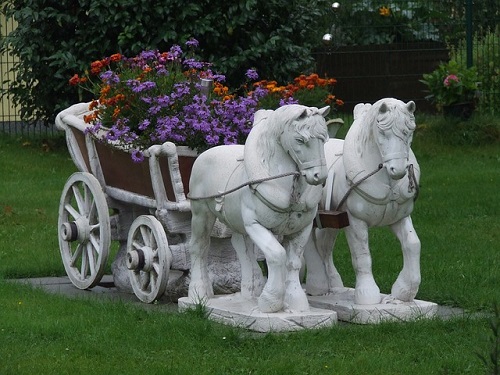 Check out these landscaping ideas for small backyards.
Decide on a color theme
Choosing two to four colors to feature in your backyard is a great way to make your small backyard space look professionally designed. Choose one or two neutral colors like grey, white, or black and one or two bright colors. This will make it easy to choose plants, patio furniture, and other accessories no matter where you shop!
Create walkways
Creating walkways for the backyard helps make it livable and fun! Since you're dealing with a small space, it's best to create smaller walkways rather than big wide paths. Consider using stepping stones to create your walkway; they are easy to install and fairly inexpensive too.
A quick note on installing these stepping stones: Don't make the mistake of simply plopping down the stones and calling it a day. This will result in wobbly stones that are difficult to walk across. Instead, lay the stones in the desired pattern, then use a garden trowel to cut down into the sod around each stone. Then move the stone out of the way, and dig the area so that it's deep enough for the stone to be flush with the surrounding lawn.
Consider a small pond / water feature
Installing a water feature is a great way to add a bit of charm to a small backyard. Here are some possible ways to add water to your small backyard landscaping:
vanishing edge pond
pond niche
orb fountains
half-moon pond
Asian-inspired water fountain
Choose a variety of plants
Plants help accent your yard with splashes of color and break up large areas of sod that can make your yard seem smaller than it is. Place the plants around the walkways, walls, and water features to create colorful borders in your backyard. Make sure you choose appropriate plants for your climate. Finally, it's important to maintain the plants with proper watering so they stay alive. Create a watering schedule if you need it so you don't forget to care for your plants.
Create a social space in one corner/area of the yard
When you're dealing with small backyards, it's often best to create the dining/hang out area in a corner to make your backyard seem as large as possible. Also, be sure to choose appropriately sized furniture for your space. Instead of large clunky patio chairs, consider long family-style benches or smaller stools. Shade sails can be used instead of big umbrellas or gazebos to provide an escape from the sun on hot days.
Follow these landscaping ideas for small backyards to make the most out of your small yard space!
Evergreen Turf is your source for the highest quality sod in Arizona. Our friendly, knowledgeable people are committed to answering all of your questions to ensure a stress-free experience with your new Arizona sod lawn. Whether you wish to sod a small play area for the family or an entire golf course, Evergreen Turf can help you make it happen.
Our team serves customers throughout Arizona, including Phoenix, Mesa, Tempe and Tucson. Browse our website for information and tips on how to create and maintain a beautiful lawn, or give us a call if you don't find what you are looking for. Better yet, stop by and meet the team at our convenient Chandler location.