Tucson Sod Lawn Care Specialists
There's no shadow of doubt that living in the desert Southwest has many great advantages. With an average of 350 days of sunshine a year, you don't have to worry about bundling up, shoveling snow or staying cooped up in front of a space heater all day. With great weather year-round, this also means you get to enjoy a lot more time outdoors enjoying the great outdoors.
If pictures of green landscapes from your friends in Missouri make you "green" with envy, you know you're perhaps getting a tad bit frustrated of seeing a dusty, dry landscape all day. There is no need to worry; there are solutions that will have your neighbors realize that yes, the grass can actually be greener on the other side of the fence.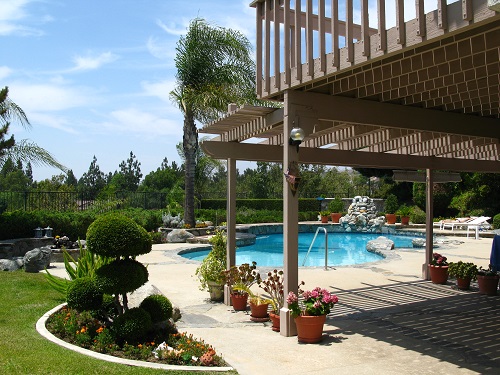 Discover Evergreen Turf
Pathetic weedy grass can be easily replaced by installing attractive, low maintenance turf. At Evergreen Turf, you can rest assured you'll find the most suitable Tucson Sod to match your landscaping needs.
You may believe that maintaining a lush landscape in the desert can be quite challenging. With little rainfall and abrupt temperature extremes between the day and the night, you ultimately can't blame grass for refusing to grow. Your best bet is to choose drought and heat tolerant Tucson sod varieties.
The University of Arizona highly recommends bermudagrass for lawns located in low desert valley areas such as Phoenix, Tucson, and Yuma. Other optimal choices include Midiron, Tifway, Tifgreen and Palmetto St. Augustine. The latter type of sod is the best performer if your lawn is shaded for a decent portion of the day.
Advantages of Using Sod in Tucson
Choosing sod over seeds has several advantages. For desert landscapes, the biggest advantage is that sod requires less water than seed. Allergy sufferers may appreciate the fact that sod is pollen free. Best of all, no more tedious waiting for the seeds to germinate; when you invest in Tucson sod you get instant gratification!
Interested in sod in Tucson? You'll be glad to learn how easy it is to install Tucson sod. If you're up to the task, you can install it yourself the same day you receive. Otherwise, you may just sit back and relax and have your sod in Tucson professionally installed.
Whether you need Tucson sod to build a lawn from scratch or need to renovate a grassy area that has been a bit neglected, Evergreen Turf is there to help you choose the best grass that is suitable for the Arizona climate. Established since 1999, Evergreen Turf's knowledgeable, friendly staff will provide you with reliable expert advice on choosing, maintaining, and fertilizing your sod in Arizona. So say goodbye to that dry, desert landscape and say hello to vibrant green grass; Evergreen Turf is here to help you make it happen!
For more information about maintaining your Arizona sod, or installing new sod, feel free to contact us at Evergreen Turf, Arizona's Premier Sod Supplier.
Select the perfect turf using our lawn selector. Once you've found the perfect type of grass, you can order online or by phone. Learn how to measure your lawn and how to install your new lawn with our helpful online guides.